How important is accessibility? Is your website accessible to everyone? If you want to make your website accessible to everyone including people with disabilities like Visual Impairment, Hearing disability, Learning disability, Cognitive Impairment, then Include web accessibility in your development plan. This article will discuss 5 free website Accessibility Evaluation Tools that can help you make the web-accessible.
The power of the Web is in its universality. Access by everyone regardless of disability is an essential aspect.

Tim Berners-Lee, W3C Director and inventor of the World Wide Web
It is essential for developers and organizations who create high-quality websites to consider making it accessible to avoid excluding users with disability from using their products or services.
What is Web Accessibility?
Web accessibility means that websites, tools, and technologies are designed and developed so that people with disabilities can use them.

w3.org
In brief, your website should be accessible to all forms of individuals with disability which include people with auditory, cognitive, neurological, speech, visual and physical disabilities.
Web accessibility can also be beneficial for people without disabilities, for instance the aged, people using smartphone, and devices with small display screens.
In order to evaluate your website, you will require some tools that can help developers and organizations achieve that. In this article, I will list some free accessibility tools developers and organizations can use to evaluate their web products and services.
WAVE
WAVE is an accessibility evaluation tool design by WebAIM. This tool is also available as an add-on for Firefox and Chrome browsers. WAVE aims at helping developers and organizations to make their content more accessible to people with disabilities. WAVE is also able to identify most of the accessibility issues identified in the Web Content Accessibility Guideline (WCAG) and also makes it easier for developers and organizations to evaluate their web content.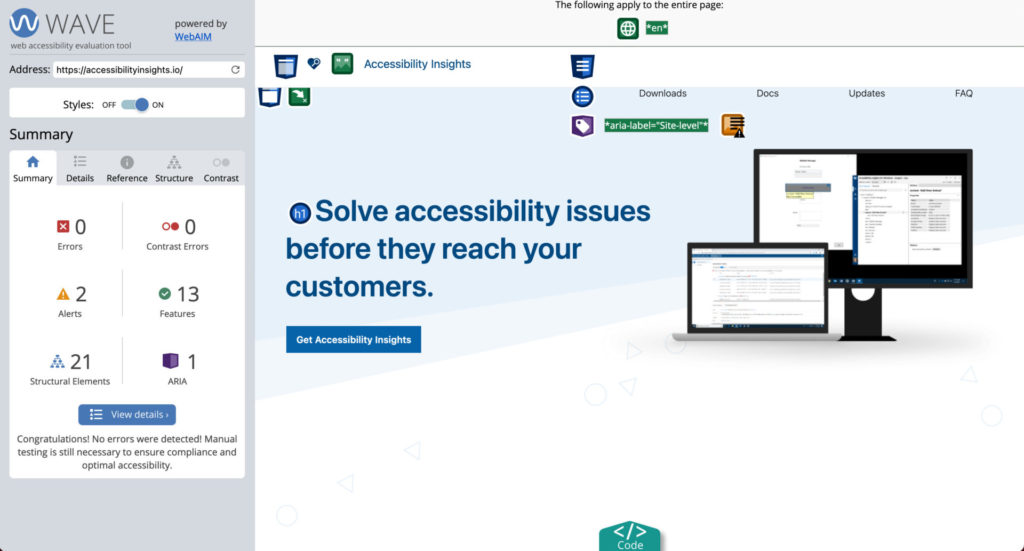 AChecker
AChecker is an accessibility tool used to evaluate HTML contents of a website for accessibility issues. HTML content accessibility can be checked in three different ways using AChecker, you can either enter a URL, upload an HTML file, or past a complete HTML source code. AChecker also gives you the opportunity to select the guidelines to evaluate against. AChecker generates helpful reports in the following categories: Known Problem, Likely Problem, Potential Problems, HTML Validation and CSS Validation.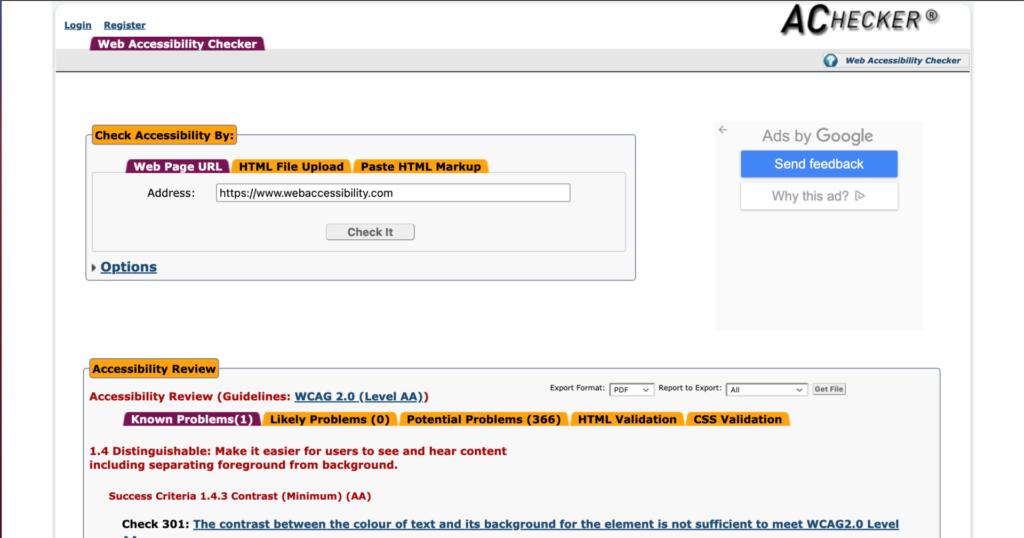 Web Accessibility
This Accessibility by Level Access is developed to evaluate the complaints of your website to Web Content Accessibility Guidelines (WCAG) 2.0 standards. It allows you to test 5 pages for free. They also have tools that enable developers to embed accessibility best practices in their development lifecycle.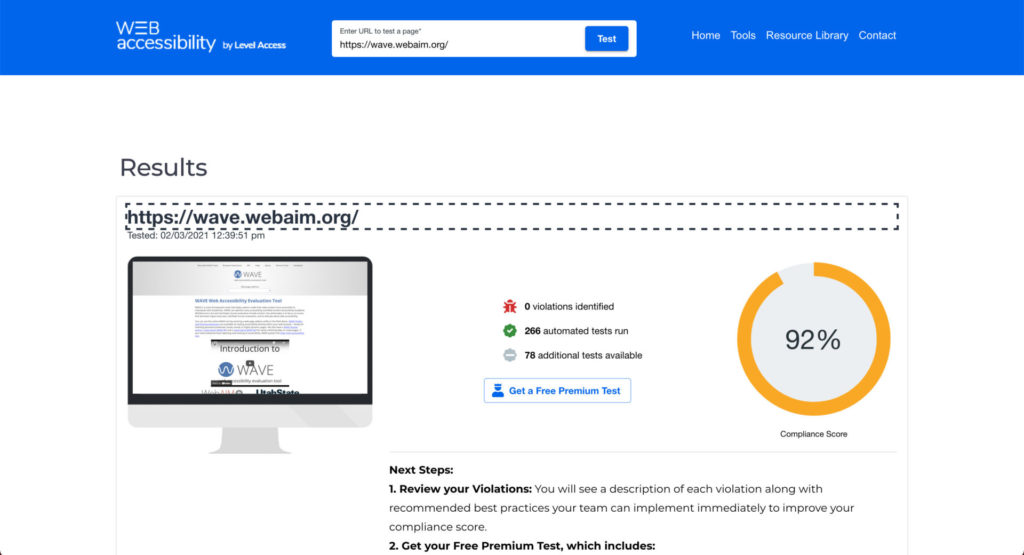 Cynthia Says
Cynthia Says is a free accessibility tool design for educational purposes. It is designed to evaluate web content accessibility issues related to Section 508 standards and WCAG compliance guidelines.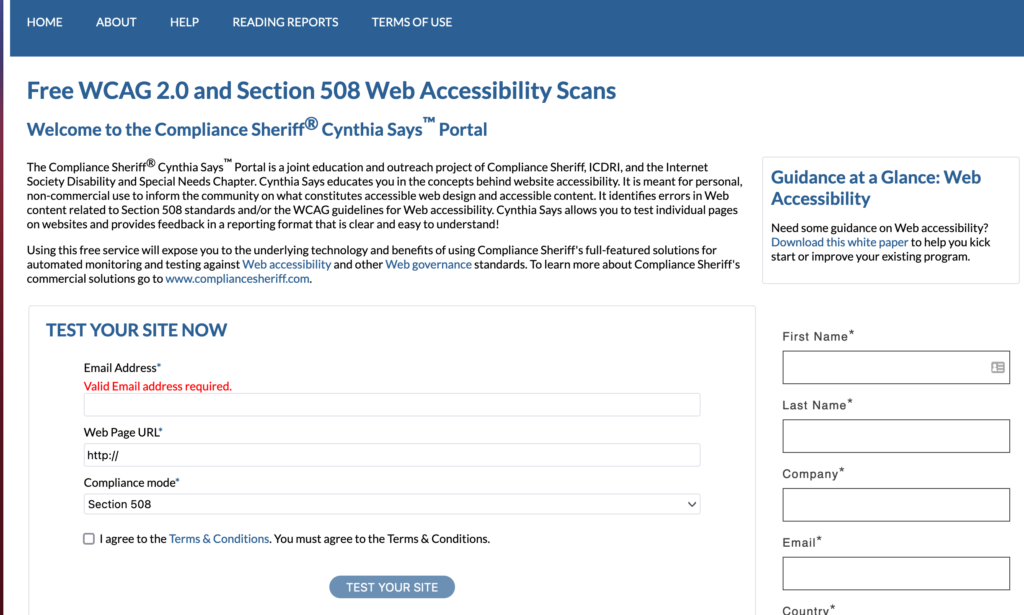 Accessibility Insights
Accessibility Insights are available for platforms like Android, Web, and Windows. It has an extension for Chrome and Microsoft Edge browsers. The extension helps developers find and fix accessibility related issues with web apps and sites. Accessibility Insights automated checks about 50 accessibility compliance requirements. Like the other tools mentioned in this article, Accessibility Insight for Web also complies with Web Content Accessibility Guidelines (WCAG) 2.1 Level AA.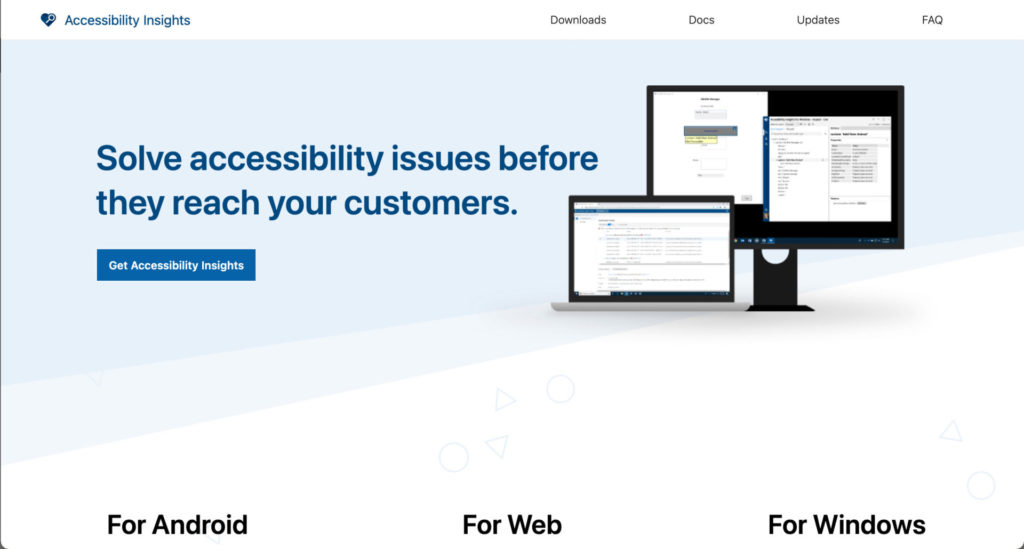 Final Words
Making the web accessible makes it easier for people with disabilities to navigate the web with less difficulty. However, Each and every one of us benefits when websites comply with the Web Content Accessibility Guidelines (WCAG).
On the whole, the tools introduced in the article are to help developers and organizations to comply with WCAG. Making the web accessible is an inclusive practice ensuring people with physical disabilities, situational disabilities, and socio-economic restrictions on bandwidth and speed can access or interact with websites on the World Wide Web.
Other Useful Resources
Web Accessibility Evaluation Tools List